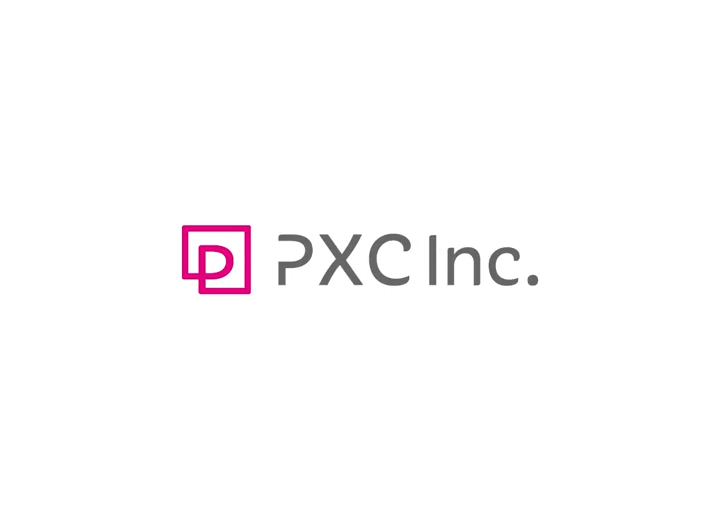 Message
We are proud to announce we have achieved a 50-year mark since its founding in 1971.
We will continue to work diligently towards creating a 100-year corporation as a "bridge connecting people and society".
To our dear Stakeholders
My name is Kenichi Sugano, I have been appointed as the president of the company to succeed Mr. Kawasaki who is now supporting us as a chairman.
While inheriting the business philosophy of Mr. Kawasaki who has led the company for the last 50 years, I will endeavor to lead with my own new idea and the calling, which is to execute CX (Corporate Transformation) of PXC to lay a foundation to become a 100-year corporation.
We would like to ask all of you stakeholders for your continued guidance and support.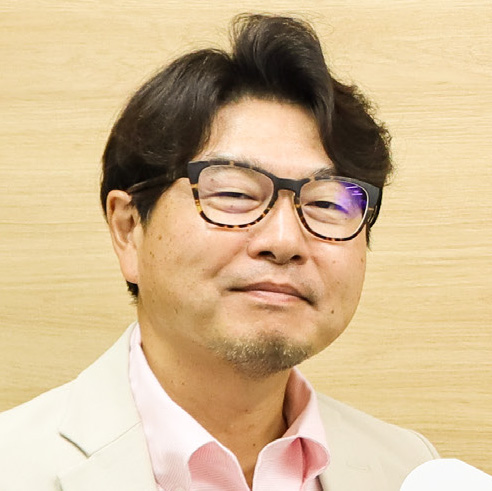 President
Kenichi Sugano

Kenichi Sugano Biography<As of July 1, 2021>
Career
July.2021

President and Representative Director PXC

Apr.2012

Chairman and CEO, Riskmonster.com

Mar.2005

Successfully IPO'd Riskmonster.com in Tokyo Stock Exchange Hercules market.

Sept.2000

Founded Riskmonster.com

Apr.1996

Nissho Iwai Credit Dept NY office.

Apr.1993

Nissho Iwai Corporation (currentlySojitzCorp.), Credit department.
Date of Birth

May 16,1969 (Showa 44 )

Birthplace

Kanagawa Prefecture, Japan

Education

March 1993, Graduated from Keio University Faculty of Law, Department of Law

Affiliation

Keizai Doyukai, Japan Financial Society

Book "Introduction to Credit Management-50 Points for Practical Use"
(2014, Financial and Financial Situation Study Group)
"Introduction to Credit Management (New Edition)
-55 Points That Can Be Used in Practice"
(2019, Financial and Financial Situation Study Group)
"Entrepreneurship Navigator" (2016, Toyo Keizai Inc.)
InventionPatent No. 4889140 / Patent No. 5258929
"Anonymous e-commerce system and method with credit function"
OthersIndependent Director, Integratto Co., Ltd. (Sept.2021-)
Independent Director, NFA Co.,Ltd.(Feb.2021-)
Independent Auditor, Manabi-Aid Co.,Ltd.( July.2021-)
Independent Director, FastAccounting Co.,Ltd.( July.2020-)
Guest Lecturer, Hakuoh University -Part-time Lecturer (Sept.2017 -Mar. 2020)
Guest Lecturer, National Yamagata University, Faculty of Humanities (Apr.2016-Mar.2018)
Guest Lecturer, Doshisha University Faculty of Economics (Mar. 2015-)
Organization
Our new organization is dedicated to deliver "optimal customer experience" in every aspect of client's requirement and aspiration.
Be it digital or physical, our service and products are the intelligence that focuses on solving client's problem.

Meisters who meet challenges with knowledge and experience
Our staff members who are valued highly by clients and have an abundant knowledge and experience are called "Meisters". They not only apply their dedication to their work, but also pass it on to younger members, allowing the company to grow organically through generations.
Own Service
We offer our distinctive services from the perspective of our customers through our strengths in production and logistics.
Our Speciality Products
We have captured the needs of the times with the wisdom and planning ability that was cultivated over 50 years since establishment.
We will continue to put effort into craftsmanship and birthing new values.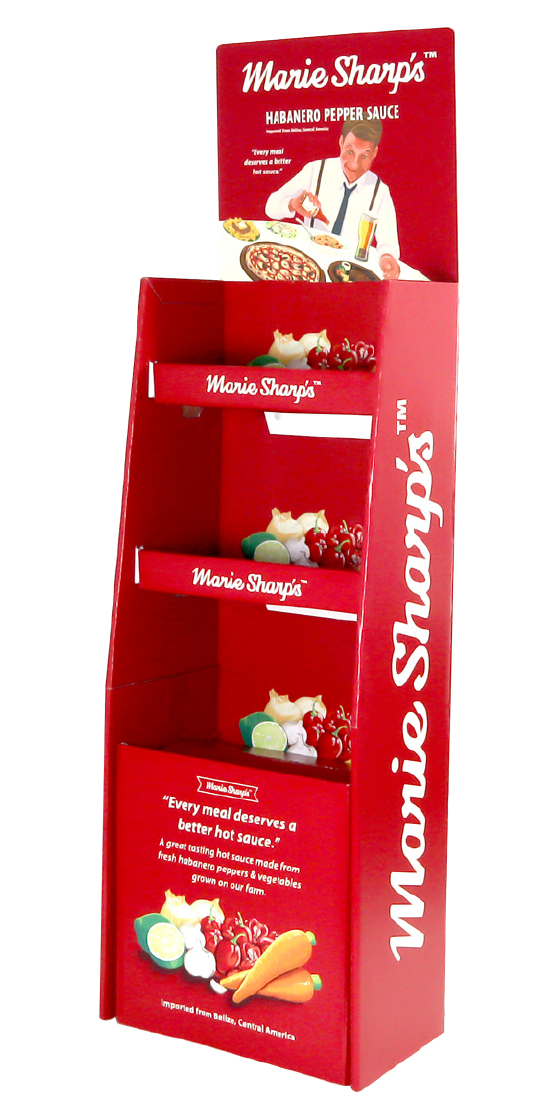 less transportation cost × less installation time
e-Quick Display
Great display function yet foldable to a compact size.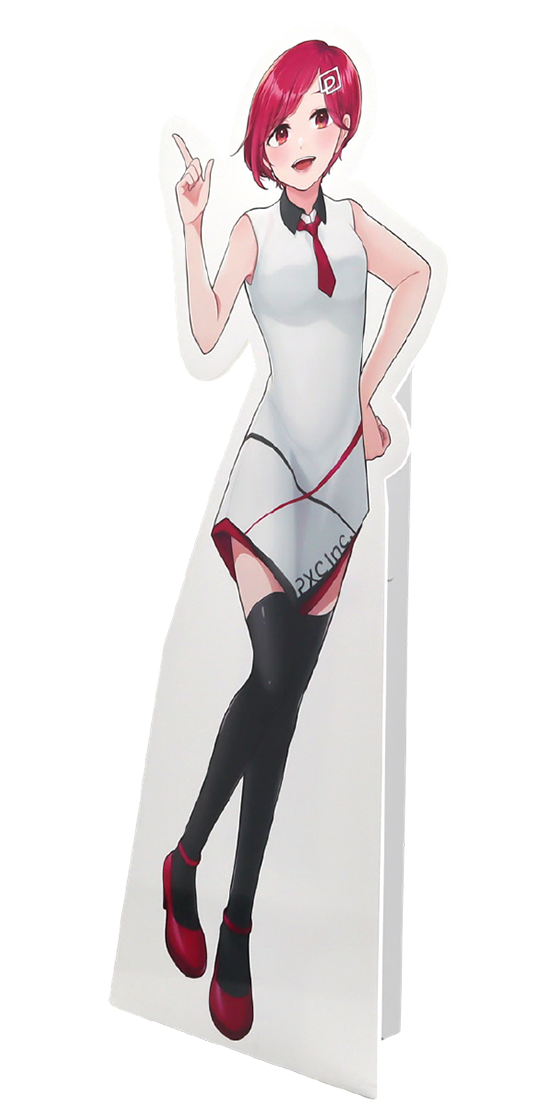 Content × Personalization
Character standing POP
Standing POP that can be personalized by combining IP content and POD (Print-On Demand).
We propose the most suitable product for the modern times.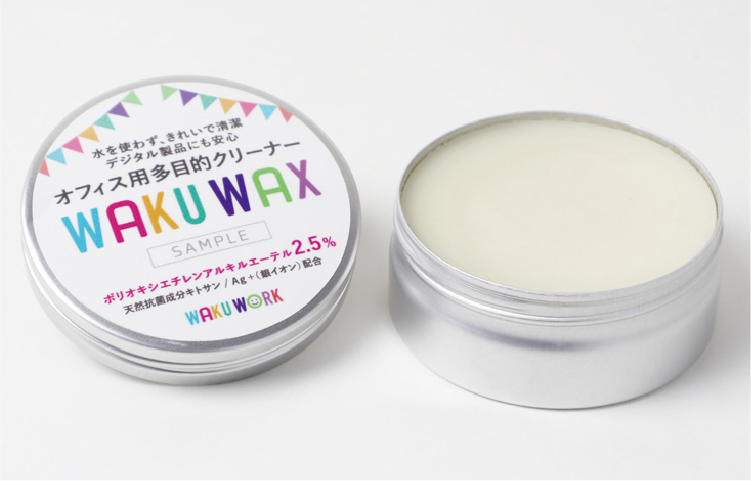 Virus removal × gloss cleaner
WAKU WAX
We sell multi-purpose cleaning wax for offices that does not use water and is safe for digital products.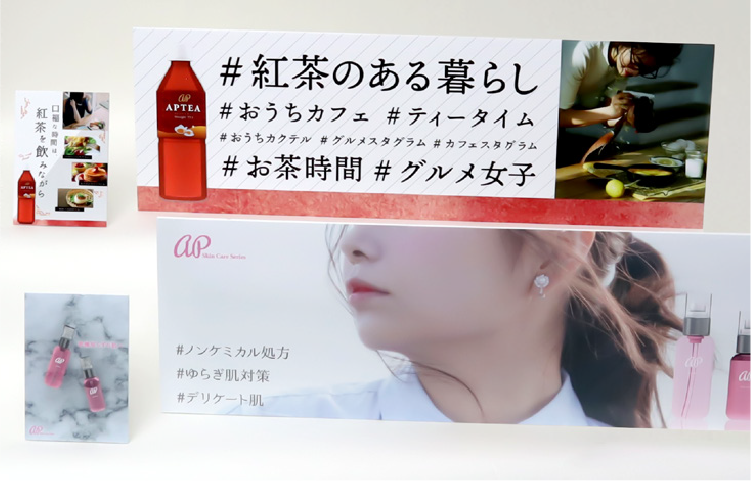 AI × DESIGN × POD
Digital printing POP
We propose a new way of sales promotion where AI incorporates down-to-earth, everyday consumer's view into POP and MD products.
Domestic Base
Manufacturing & Distribution base in Yashio City, Saitama:great access from/to Tokyo
Our domestic manufacturing and distribution base, with a total area of approximately 4300m, offers everything needed for sales promotion, form POP items, giveaways, prizes, memorabilia, to event booth and displays, etc.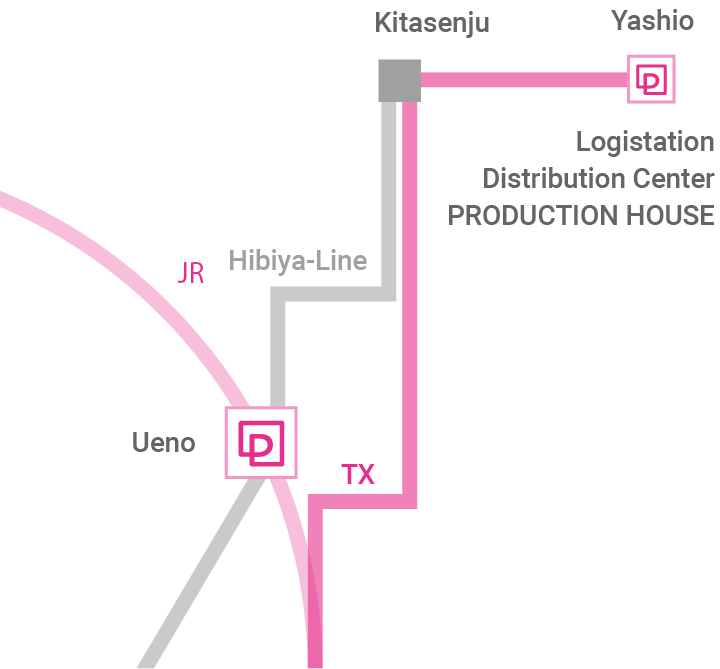 Logi Station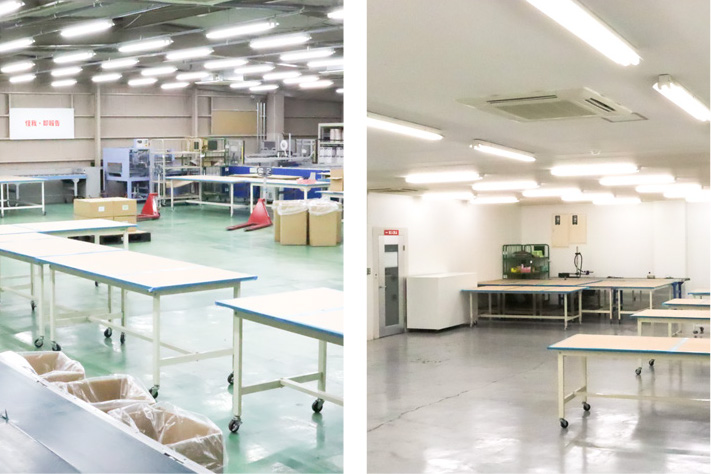 Consignment
Processing
Manufacturing
Re-pack
Storage
Delivery
One-stop shop enabling centralized control from manufacturing & processing to delivering the goods.
With specialized licenses in hand, such as Cosmetics Manufacturing License, Quasi-drug Manufacturing License, Confectionery Manufacturing, we are flexible to meet any specialized order.
Distribution Center
Goods receiving
Inventory control
Delivery
Storage
WMS Management
Support
Specialized in E-commerce logistics for in-stock inspection, storage, packing and shipping, we provide high-quality logistics that can only be achieved by all the setups dedicated for E-commerce operation with multiple layers of WMS (Warehouse Management Software).
Production House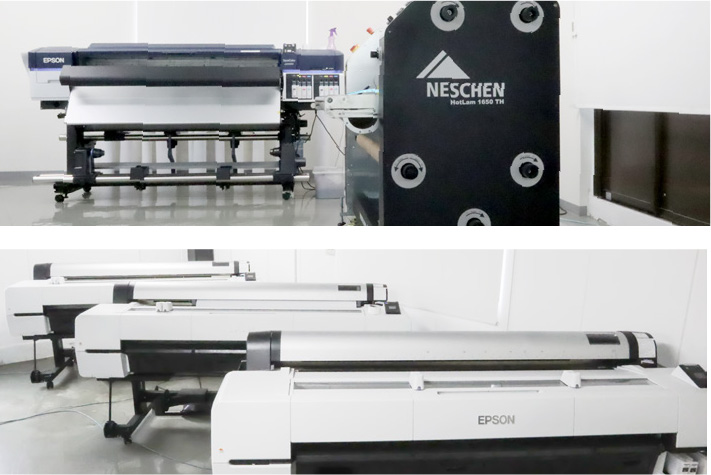 Large format print
Event construction
CAD
Laminator
Design
Our strengths are high quality, speed, and cost performance that can only be achieved by in-house factory.
Overseas Base
Since entered Vietnam in 2013, we have served 100+ international clients.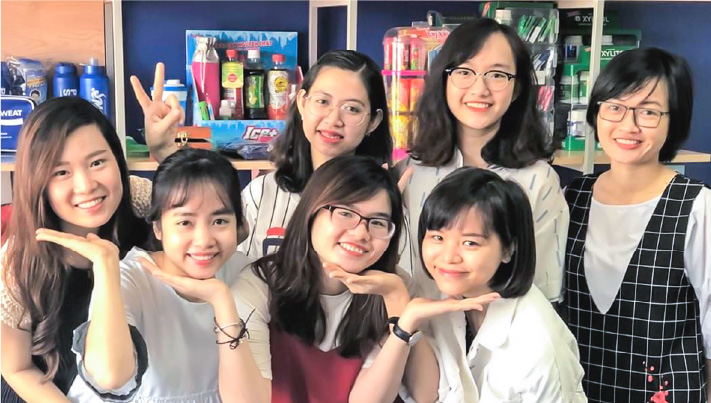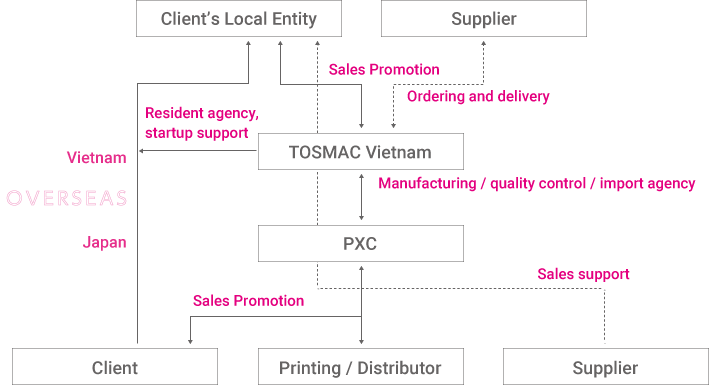 We provide physical / digital promotion to the local entities of international corporations in Vietnam, as well as assisting companies to enter into Vietnamese market or remote work in/with Vietnam.
We also support import & export from/to Vietnam.

General Director Nobuo Sato (Mr.)
Established on 12 – July – 2013
Capital137,500 (USD) / 2 billion 8 hundred million (VND)
OFFICE Room 601, Phuong Tower, 31C Ly Tu Trong St, Ben Nghe Ward, District 1, Ho Chi Minh City, Vietnam
Nobuo Sato

< Inaugurated in March 2021>

After working in the food & drink industry, real estate, and IT contracting business, in April 2020, Mr. Sato entered into advisory agreement with PXC Inc.
As a digital adviser to TOSMAC Vietnam, he moved to Ho Chi Minh, Vietnam in December 2020.
After assuming the post of representative director in March 2021, Mr. Sato is building a system that allows remote work outsourcing while promoting digitalization in the company.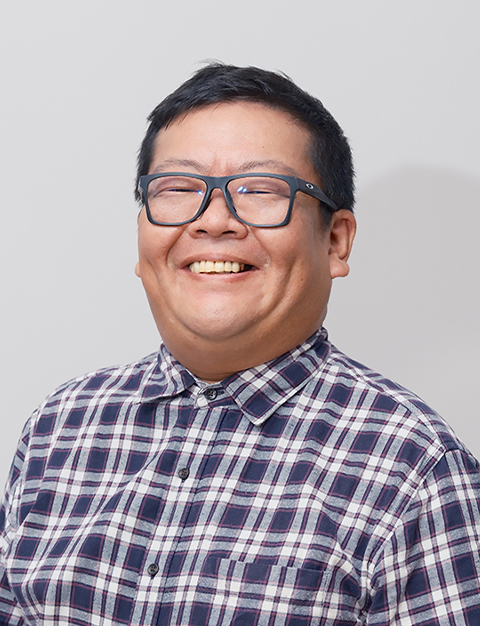 PXC Texas LLC is incorporated in Houston, TX in April 2022 as a main actor and the trailblazer of PXC's Gone To Texas investment campaign.
PXC Texas will acquire, develop, and manage real property in Texas, with particular focus on commercial real estate.
Yo Shimizu

President

Yo Shimizu has over 20 years of first-hand experience in international project management, particularly in the field of upstream oil & gas. After working for a few significant Japanese oil & gas corporations, Mr. Shimizu started Hayabusa Energy USA LLC in Houston, TX in 2015, optimizing profit from marginal wells in Texas. Mr. Shimizu joined PXC in August 2021 as a special adviser in charge of international investment & trade.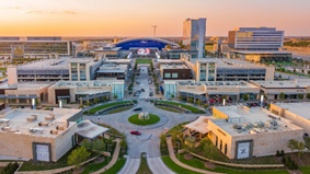 Other overseas bases
TOSMAC HONG KONG.CO., Ltd.

Rm 901, Boss Commercial Centre, 28 Ferry Street, Jordan, KLN, HK

Crescere Thailand.Co.,Ltd.

42 Tower M floor, Room M3, 65 Sukhumvit 42 (Kluaynamthai) Sukhumvit Road, Phrakhanong, Klongtoey, Bangkok 10110
Our History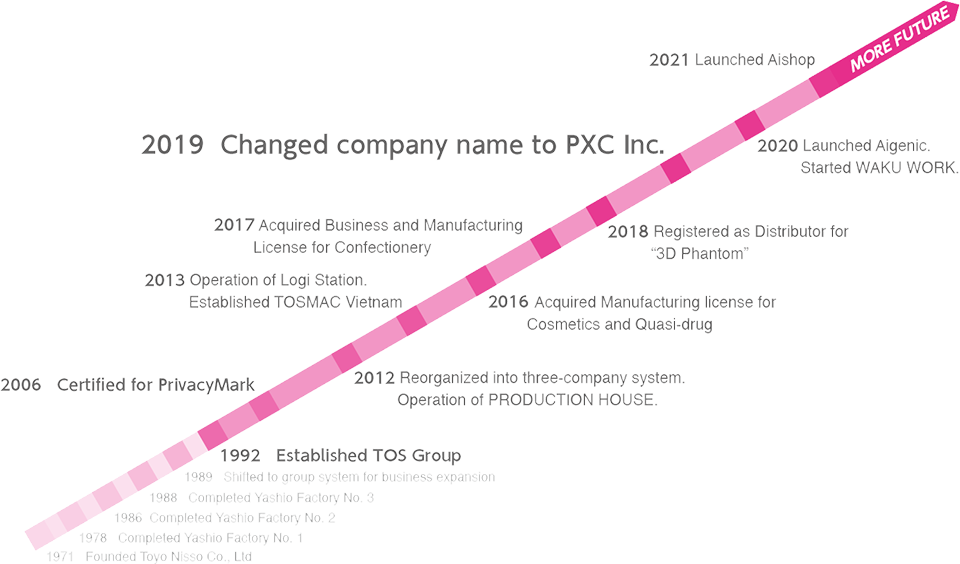 Outline
President: Kenichi Sugano
Founded 1971
Established 1992
Capital 75 million yen
Sales: 2.4 billion yen
Number of employees: 105 (as of May 2021)
Client's industries: Pharmaceutical, information and communication, food manufacturers, beverage manufacturers, amusement, apparel, printing, advertising agencies, etc.
Main banks: Mizuho Bank, Sumitomo Mitsui Banking Corporation, Asahi Shinkin Bank, Japan Finance Corporation
Offices:

Headquarters

4-20-2 Higashiueno, Taito-ku, Tokyo 110-0015

Sales Headquarters

TEL +81-3-3843-6751 (Representative)
5-7-12 Oze, Yashio City, Saitama 340-0822

Logistation

TEL +81-48-951-2605 FAX +81-48-951-2606
1545 Osone, Yashio City, Saitama 340-0834

Distribution Center

TEL +81-48-995-0147 FAX +81-48-995-0148
1529 Osone, Yashio City, Saitama 340-0834

PRODUCTION HOUSE

TEL +81-48-994-3351 FAX +81-48-995-5321
Ownership authorization
Cosmetics manufacturing license No:11CZ200371
Quasi-drug manufacturing license No :11DZ200227
Confectionery Manufacturing Business License /
Permit Number:Draft Order No. 1-856
FSC /CoCLicense code:FSC C167522
Certification number:SGSHK-COC-350545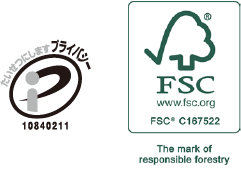 A PXC's 2.5D Public Relation officer "Akari Kakehashi" is delivering useful information in social media!